1st Place:
"More wood for the camp fire Mum"
Judges' comments:
"The winner ... is a very well composed photo. Black dogs are difficult subjects but in this scene the dog is clearly defined and the water splashing gives a definite indication of the movement along the beach. An enjoyable photo to look at, giving us the sense that we were there collecting that wood as well."
2nd Place:
"Wow Dad, that travel guide was right - Newfie Paradise"
Judges' comments:
"This is a beautiful photo - clear, colourful, well balanced with definition and the reflections in the water the finishing touch. Paradise - not just for Newfies."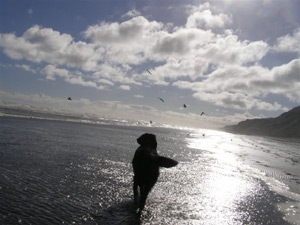 3rd Place:
"Newfie Heaven - Sand, Sea and Seagulls"
Judges' comments:
"We loved the silhouette of the black dog against the backdrop of the bright sun reflecting off the water. It gave a sense of calm and peace of wandering along the beach just before the Newfie explodes into action to chase the birds. A very nice photo."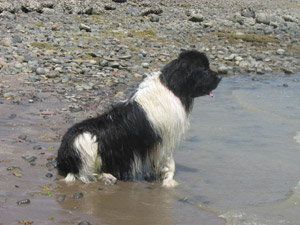 Highly Commended:
"This is the life"
Judges' comments:
"What better than to relax at the waters edge after all that chasing, leaping and catching the waves. A lovely photo - nicely defined with good colours and showing the essence of a dog enjoying a day in the sun at the beach."
Highly Commended:
"A holiday nightmare - found the stick - lost my denture"
Judges' comments:
"A great fun photo and how many dentures are washed away. This dog the centre of the photo clearly defined and enjoyment personified. Well done."